乔治·弗洛伊德死亡事件:和平抗议席卷美国,对种族平等的呼吁达到新高度
George Floyd killing: peaceful protests sweep America as calls for racial justice reach new heights
2020-06-08
Cristal
34809
0
0
收藏
纠错&举报
译文简介
美国这次的抗议活动不只是在国内引起了争议,甚至在国际上也都爆发了呼声
正文翻译
George Floyd killing: peaceful protests sweep America as calls for racial justice reach new heights
乔治·弗洛伊德死亡事件:和平抗议席卷美国,对种族平等的呼吁达到新高度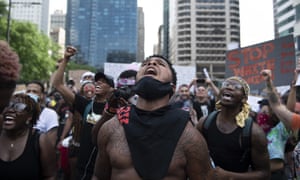 Hundreds of thousands took to the streets on a day that saw grief and determination punctuated by moments of levity
那天成千上万的人来到街上,目睹着悲伤和信念正不断地被轻浮所磨灭
Hundreds of thousands of Americans took to the streets, in big cities and small towns, from coast to coast, marking one of the the most expansive mobilizations yet in the nationwide protests against police violence and systemic racism sparked by the police killing of George Floyd in Minneapolis.
全国各地,不论是大城市还是小城镇,都有成千上万的美国人聚集到街上,爆发了有史以来国民抗议警察暴力执法和种族主义的最大规模运动,这场运动的起因是来自明尼阿波里斯市的乔治·佛洛依德被杀案件
Demonstrations, now in their second weekend, were largely peaceful – and included moments of levity and jubilance. It was a notable shift from the weekend prior, when police beat back demonstrators with force, using teargas and pepper spray to suppress the unrest.
这场示威在第二周主要还是以和平的方式进行,里面不乏一些轻浮和娱乐的时刻。但是,在这周的一开始,当警察开始使用催泪弹和辣椒水喷雾来镇压这场抗议的时候,这场示威的性质发生了显著的改变
Mourners paid their respects to Floyd in North Carolina, his birthplace and final resting place. Hundreds filed past his coffin, lining up outside Free Will Baptist church in Raeford in the searing heat to say a last goodbye.
悼念者开始表达他们对弗洛伊德的尊重,这位男孩出生在卡罗莱纳北部,并最终在这里安息;数百人列队走过他的灵柩,在雷福德自由意志浸信会教堂外排队,忍受着酷热来与他道别。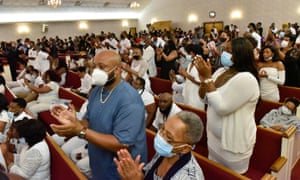 In Minneapolis, where Floyd was killed, marchers asked city officials to defund the police, a rallying cry at protests across America that has begun to gain concrete pledges. The city council voted on Friday to ban officers from using chokeholds and neck restraints, but Mayor Jacob Frey would not commit to defunding the police. "I do not support the full abolition of the police department," Frey told protesters. They responded by booing him away, chanting "Go home, Jacob, go home" and "shame".
在明尼阿波利斯,佛洛依德遭遇杀害,游行人员要求市政官员撤回这位警察的工资,席卷全美的联合抗议悼念活动已经得到了具体的承诺。周五,尽管市委员会投票禁止警察使用锁喉和勒脖子的动作,但是市长雅各布·弗雷并未承诺对涉案警察进行资金上的处罚。弗雷告诉抗议者"我并不完全支持废除警察部门"。抗议者对他发出嘘声,喊道"滚回家,雅各布""我为你感到羞耻"
Meanwhile, thousands gathered in New York's Central Park and hundreds more gathered in Harlem for prayers and protest.
同时,在纽约中心公园和哈莱姆聚集着成千上万的人在祈祷和抗议
Demonstrators chanted "get off our necks" and "racism is America's original sin" as they marched uptown from the National Black Theatre in Harlem. Pastors and other faith leaders gave rousing speeches outside the theatre and other celebrated spots, including the Schomburg Center for Research in Black Culture – an internationally renowned archive for information on people of African descent.
游行队伍从哈莱姆国家黑人剧院的居住区出发,喊道"切断我们的脖子吧"以及"种族歧视是美国的原罪"。在剧院外面以及一些著名景点,牧师和其他信仰的领导者正在引起公众的呼声,这些景点包括朔姆伯格黑人文化研究中心,这是一个国际知名的关于非洲人后裔信息的档案馆。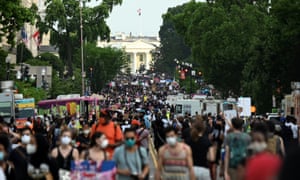 "Harlem is extremely significant when it comes to talking about the disproportionate impact on black and brown communities of so many things – for example, Covid-19 and police surveillance," said Jacquelyn Martell, 33, one of the protest organizers. "But part of this movement is to bring communities together and ameliorate divisions brought forth by systemic racism and bring some healing as well."
一位33岁的抗议组织者杰奎琳·马爹利讲道:当话题涉及到黑色和棕色人种群体的时候,哈莱姆是极具意义的地方,比如新冠病毒事件以及警察监控事件。这场运动在某种程度上是为了让大家团结到一起,改善系统性种族主义带来的分歧,并且有望消除这种分歧
In the nation's capital, more than 10,000 people poured into the streets, gathered near Lafayette Square by the White House, marched down U Street's historic Black Broadway, and coalesced at the feet of Abraham Lincoln at his giant marble memorial.
在美国首都,一万多名民众涌上街头,聚集在白宫旁边的拉斐特广场,沿着具有历史意义的黑人百老汇大街游行,聚集在亚伯拉罕·林肯巨大的大理石纪念碑前。
Although the White House remained fortified behind newly erected metal fencing, there were markedly fewer tanks and heavily armed federal officers around the city – following widespread outcry over the presence of militarized law enforcement over the past week.
尽管白宫方面在新建的金属栅栏后面仍加强了防御,但在过去一周对军事化执法的广泛抗议之后,该市周围的坦克和全副武装的联邦官员明显减少。
The words "Black Lives Matter" had been painted in bright yellow letters along a street near the White House, where just days before protesters were brutally dispersed by using teargas so Trump could have a photo op in front of a church. Nearby, demonstrators painted an additional message on the streets: "Defund the police." Trump, who has threatened to send in the military to quash demonstrations, tweeted on Saturday to praise various branches of law enforcement.
特朗普为了能够在教堂前面开发布会,使用催泪弹这种暴力的方式将人群驱散,几天后,这里的街上便出现了用亮黄色书写的:"黑人生命同样重要"的字样。最近,游行者又在街上增加了新的内容"解雇那名警察"。特朗普威胁到:将会使用军队的力量来处理这场游行,并且周六在推特上公开表扬了不同的执法部门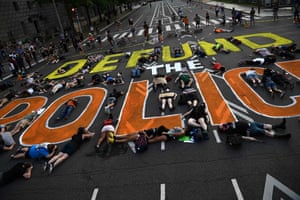 In Philadelphia, which saw one of the largest mobilizations of demonstrators in the city since protests began, activists demanded that the mayor cut at least 10% from the police department budget, which is due to receive more money even as other programs face cuts. The showing came as the top editor of the Philadelphia Inquirer resigned, following an uproar over a headline bemoaning property damage that read: "Buildings Matter, Too." Local residents had also been shaken by a showing of an armed group of mostly white men in the city's Fishtown neighborhood on Monday.
自从抗议活动开始,费城人目睹了其中一次的最大规模动员,抗议者强烈呼吁市长至少要削减警察部门10%的预算,这样就能有更多的钱来填补那些面临减少投资的项目。这一事件发生之后,《费城问讯报》(Philadelphia Inquirer)的首席编辑辞职。此前,《费城问讯报》(Philadelphia Inquirer)的一篇哀叹财产损失的文章标题为:建筑也很重要(building Matter, Too),引起轩然大波。
Among the Philadelphians who rallied on Saturday were members of the 76ers basketball team and a couple who married amidst the demonstration.
周六费城街头游行的队伍主要由76人的队员组成还有在游行期间结婚的一对夫妇(76人:篮球队,位于费城,篮球中黑人地位很高)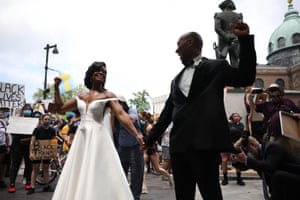 In Louisville, a city mourning the police killing of Breonna Taylor and David McAtee, the civil rights leader Jesse Jackson called on lawmakers to pass an anti-lynching law and eliminate protections for police officers from lawsuits.
在路易斯维尔,一个悼念布伦娜·泰勒和大卫·麦克卡特(都是被警察杀害)的城市,民权领袖杰西·杰克逊呼吁立法者通过一项反私刑的法律,并取消对警察诉讼的保护。
In California's Simi Valley, where four white Los Angeles police officers who brutally beat Rodney King were acquitted in 1992, sparking riots, about 2,000 people marched to the city hall, demanding an end to police violence.
1992年,四名洛杉矶白人警察在加州西米谷残忍殴打罗德尼·金(Rodney King),结果被判无罪。这一事件引发了骚乱,当时大约有2000人在市政厅抗议,要求结束暴力执法
Thousands of demonstrators flooded on to San Francisco's Golden Gate Bridge with the acquiescence of authorities. Tow trucks held off car traffic in both directions, and police directed vehicles caught in the middle of the bridge to go around protesters.
在有关部门的默许下,数千名示威者涌向入圣弗朗西斯科的金门大桥。两个方向的拖车阻碍了汽车通行,警察指挥那些被困在桥中央的车辆,让它们绕过抗议者。
Officials have also ordered police to scale back the use of teargas, which public health experts warn could exacerbate the spread of coronavirus, in Portland and Seattle. "Our community has serious concerns about the use of CS gas for crowd management, particularly during a time when we're battling a pandemic," the Portland mayor, Ted Wheeler, said in his statement on Saturday. "Gas should not be used unless there is a serious and immediate threat to life safety, and there is no other viable alternative for dispersal."
在波特兰和西雅图,官员们也已经命令警察减少催泪弹的使用,公共健康专家也发出警告,称这将会加剧新冠状病毒地传播,周六的发布会上波特兰市长特雷德·威尔谈到:"我们非常担心使用CS气体控制人群,尤其是在我们正在和疫情战斗","除非这里发生了严重的威胁市民生命健康的事件,没有别的办法来驱散人群的时候,才能去使用这些气体"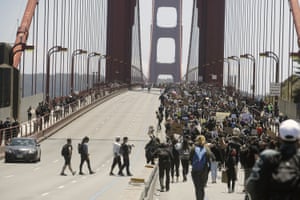 Following nearly two weeks of unrest characterized by police violence and misconduct against protesters, several cities have scaled back law enforcement.
随着接近两周的关于警察暴力执法的动荡以及对抗议者的不当处理,一些城市开始所见执法人员的规模
Jersey City police did not wear riot gear and a peaceful atmosphere prevailed though the sweltering afternoon. Protesters handed out water and snacks, and nearly the entire crowd wore face masks. Demonstrators chanted the names of people killed by police in recent weeks