吃的艺术:上海小笼包
Shanghai soup dumplings: the art of slurping
2020-05-22
八大山人
21055
0
0
收藏
纠错&举报
译文简介
在上海的每个街角几乎都有路边摊出售着美味的小笼包和蒸饺。这是一篇指南,帮助你找到最好的–--如何掌握把它们大口吞下去的这门棘手艺术。
正文翻译
​
Pick up steam … Shanghainese soup dumplings. Photographs: UnTour Shanghai
渐渐加热.... 上海小笼包。图片选自:UnTour Shanghai
Any Shanghai denizen who has lived in the city for longer than a few months worships at the altar of xiaolongbao. These steamed buns of goodness – tiny pork dumplings with a slurp of soup wrapped up in a wonton wrapper – provide delicious fodder for debates among Shanghai's foodies.
任何在上海在居住过几个月或以上的的外来者都会将小笼包崇拜地推上神坛。这些蒸熟的食物宛如女神的臀部–--细细的肉末伴着汤水被包子皮完美的包装–证明这美味的食物几乎能打败上海几乎所有其它美食。
We all have our favourite joints and the truth about which one reigns supreme varies, depending on whether you prioritise the thickness of the skin or the quality of the soup inside. With XLBs (as those in the know call them), the dumpling isn't bobbing in a bowl of hot soup; rather, the soup is contained neatly inside the delicate dumpling skin. This is attained through a nifty trick of including cooled pork jelly (OK, fat) in with the minced pork, which is then wrapped in a thin flour dumpling skin. Good XLB joints have enough turnover that dumplings are steamed fresh throughout the day.
我们都有自己最喜欢的小摊,而他们的包子却有着无穷的变化,这完全取决于你对皮的薄厚的喜爱与包子里汤汁的多少为量纲。关于小笼包(我们所知的中国人的叫法),他并不是在一碗热汤中翻滚,相反地,汤水被灵巧的保持在了包子皮内。他是通过一种灵巧的的艺术将生猪肉内的汁水(好吧,是脂肪)存放于肉末中,然后再用面粉做的包子皮将其包上。好的小笼包摊会因为有良好地销量使得你什么时候去买都能买到刚出炉的。
That said, if anyone tells you the best soup dumplings in the city can be found at Taiwanese chain restaurant Din Tai Fung, give them a polite smile and then turn on your heels and run. Sure, these XLBs may win the day in Melbourne or even San Francisco, but why come to Shanghai, the home of the xiaolongbao, to order your steamer baskets from a chain? No one suggests going to Rome and eating at Pizza Hut, however well the corporation may have localised their flavors to the Italian market.
如果有人告诉你上海最好吃的小笼包在台湾连锁饭店鼎泰丰,给他一个礼貌的微笑,脱下你的高跟鞋跑路吧。当然,他家的小笼包可能赢得了墨尔本甚至是旧金山的大奖,但为什么要来上海这个小笼包的故乡,要一个从流水线上下来的蒸笼吗?在罗马没人会建议去吃必胜客,尽管必胜客家的公司可能会本地话他家的产品来适应意大利的市场。
In our humble opinion, there is no single winner of the great xiaolongbao debate – and that's no because we like sitting on the fence. There are two regional varieties of soup dumpling: Nanjing-style, which are actually called tangbao, literally "soup bun," and traditional Shanghainese xiaolongbao. The latter boasts heartier wrappers that hold in a hearty pork meatball in a sweet soup, while Nanjing's offerings have skin so thin it's almost translucent, a more savoury broth, and a smaller serving of pork. In each of these categories, we have a clear winner.
以我们的愚见,在伟大的小笼包辩论会上没有一个赢家 – 这并不是因为我们毫无立场。有两个地方品种的汤包子:南京风格的,它实际上是被称为汤包,字面意思是"汤包子",和传统的上海小笼包。后者在皮内包有丰盛的猪肉丸子甜汤,然而南京的样式包子皮肤非常得薄,几乎是透明的,更美味的肉汤和小份的猪肉。在这两个类别中,我们有了一个明确的赢家。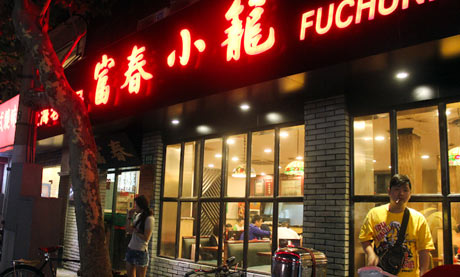 Fu Chun dumpling joint
富春小笼包连锁
For an even bigger hole in a much smaller wall, enter Nanjing's best import to Shanghai, the simply named Nanjing Soup Dumpling stall, which is consistently filled with hungry diners and even offers up a few small tables outside when weather permits. The well-worn steamer baskets are a testament to the popularity of the place. Linger during rush hour and you may be politely asked to give up your seat to waiting customers. The dumplings' delicate skin is so impossibly thin here that simply extracting them from the steamer often results in a few accidental skin piercings. With a spoon at the ready, you can hope to salvage some of the escaping broth, of which there will be a torrent. Staying true to form, the unctuous broth outweighs the meatball, almost sloshing around inside the lucent wrapper. This shop also serves up an impressive má là tang soup, with a fiery broth that has a base of over 20 traditional ingredients, stewed slowly in a giant wok.
要是你想找家大点的餐馆,那就来南京汤包店坐坐吧。这个闻名上海的南京特色餐馆挤满了饥肠辘辘的食客,如果天气不错,甚至店外也会支起一些小桌子。陈旧的蒸笼证明这儿有多受欢迎。在用餐的高峰期,许多人在店内徘徊,有时会礼貌的询问你能不能把座位让给等候的食客。汤包的皮是如此纤薄,就算只是从蒸笼里取出,也常常不经意扯破。你手持一把早已备好的勺子,想挽救一些迅速流出的汤汁。一如既往地,比起肉馅,包子里油油的汤汁更为精华,几乎在透明得发光的包子皮里晃来荡去了。这家餐馆同时供应令人难忘的麻辣烫汤,色泽鲜红,汤底由20多种传统配料熬制,在一口巨大的汤锅中文火慢炖。
Whichever regional favourite of XLB you choose, the eating method is the same. Order a lóng (steamer basket), which usually contains eight dumplings.While it's steaming ask for an order of ginger (shengjiang). Fill up a dipping dish of vinegar and plunk the slivers of ginger into the sauce to flavour it. When the basket of soup dumplings arrives, wait! If you bite right into one of these suckers, the soup will squirt out and can leave an unsightly burn on your face. Use your chopsticks to dip the XLB into the ginger-vinegar sauce, then place the dumpling in your soup spoon. This is in case the skin splits – you don't want to lose any of the precious soup.
无论你最喜欢哪个区域的小笼包,它的吃法都是一样的。叫上一笼(充满蒸汽的竹篮),里面一般有八个包子。你最好再叫上一些生姜,往蘸酱碟倒满醋后,扑通一下把切成片的生姜放进调料里可以增加它的美味感。当一笼热气腾腾的包子端上桌后,停!如果你直接就去咬包子,汤汁将会喷出并且在你脸上留下丑陋的烫伤疤痕。正确的方法是用你的筷子把包子夹到蘸酱碟里蘸一蘸,然后把包子放在汤匙上吃。这样做是以防皮肤受伤,而且你也不想损失宝贵的汤汁,对吧~
Gently take a bite out of the top (or the side) and let the steam escape. Then carefully suck out the succulent juice of the xiaolongbao. A second dip into the sauce, after you've drained the melted pork fat, wouldn't hurt. Cue the swan song and pop the xiaolongbao in your mouth whole. Savour. Repeat.
轻轻地把包子顶端(或者旁边)咬开一个口子让蒸汽消散,然后小心地吸出包子里流出的丰富汤汁,融化了的猪皮汤汁大概排的差不多后,给包子蘸第二次酱
This is merely a loving ode to the standard Shanghai pork xiaolongbao. We could go into the high-class XLB filled with pork and crab roe, but we'll save that one for another day.
我要歌颂这些标准的上海猪肉小笼包。我们可以进入一流的餐厅吃那些充满了猪肉和蟹黄的小笼包,但我们要节省,把钱留到明天用。
评论翻译
Nolordsreform
You have wonderful dumpling soup in Darjeeling, although as far as I remember minus the slurping
在大吉岭你能喝到非常棒的饺子汤,只要记住吃的时候不要太大声。
CitizenEx
The pork jelly is not fat - rather, it is gelatin from cooking the soup bones where it is dissolved from the cartilage. Maybe next time have an experience cook vet the travel/food articles.
猪肉冻不肥——确切些讲,煮汤时软骨里的胶质溶解到汤里。也许下次应该找个精于饮食之道的厨师来审核旅游/美食版块的文章。
davecamden
When I lived in Shanghai, my (local) girlfriend introduced me to these abominations. We somehow stayed together for six months after that.
我曾在上海住过,我的女朋友是当地人,她把这些令人厌恶的东西介绍给了我。也不知道为什么,我们在此之后仍然交往了6个月。
Like Mexican food in Mexico, I found Chinese food in China to be pretty rubbish.
就像墨西哥的墨西哥菜一样,我觉得中国的中国菜简直是垃圾。
DamonAndIain
interesting article but i think comparing Din Tai Fung to Pizza Hut is incredibly unfair and snobby. DTF make their dumplings fresh, cook them fresh, and they are nothing less than delicious. Having not eaten at the places mentioned I don't know how they'd compare, but they stand alone as great food. Pizza Hut pizzas, i'd argue, are stodgy, bitter, and brutal. They do not stand alone as good food whether you've eaten pizza at a family bodega in Napoli or not.
很有意思的文章,但是我觉得拿必胜客跟鼎泰丰想不是很不公平的。鼎泰丰的小笼包从食材到烹饪再到餐桌始终保持新鲜,它的美味不亚于其他美食。我不知道他们是怎么比较的,他们甚至没有在鼎泰丰吃过;但是,不管你吃没吃过,它的确很美味。然而对必胜客,我不得不抱怨几句,他的披萨真的是平凡,无味,甚至难吃,不管你有没有在那不勒斯的家庭餐馆吃过披萨,你都不会认为必胜客的披萨是道美味佳肴
davidsouthafrican
is it possible to get delicious non-pork dumplings? And promote these?
I feel sorry for highly intelligent pigs and the hideous farming conditions they endure- especially in China
Delicious only if you ignore how pork is 'made'
有没有可能做没有猪肉又美味的饺子?并且推广?
他们竟然能忍受食用在肮脏的农村养出的猪!!!特别是中国。
美味?除非你能傻到不知道猪肉是怎么来的
TheLessDeceived
This is attained through a nifty trick of including cooled pork jelly (OK, fat) in with the minced pork, which is then wrapped in a thin flour dumpling skin.
Mmm. That sounds delicious.
他是通过一种灵巧的的艺术将生猪肉内的汁水(好吧,是脂肪)存放于肉末中,然后再用面粉做的包子皮将其包上。(引用)
嗯。。(流口水)(流口水)听起来很好吃
finsicle
My favourite type of dim sum.
我最爱的小吃!!!
You didn't mention the trick to getting the "soup" inside the dumpling. From what I understand, it's a gel at room temperature. The the dumpling is wrapped around the mince pork and gel, and when steamed the gel melts into that gingery loveliness.
咋没说怎么把汤放进包子里的.
Don't know about that. In the North East of China I used to get these in plastic bags to takeaway, they were the best.
不了解。。。在中国北方,我经常用塑料袋带走,那个最好吃。
farabundovive
Brilliant. Thank you.
Brilliant ,谢啦
powicewobots
Ah, this makes me miss Shanghai so bad :(
There was this great little local place close to Dong'an Road Metro Station that did the best xiaolongbao. Mmm, good times.
啊,这篇文章让我十分地想念上海:(
靠近东安路地铁站的一家当地小店能做出最棒的小笼包。嗯,真是段好时光。
Punkygirl
No, it isn't fat. It really is soup: Good quality pork stock strengthened with agar-agar, which liquefies as it cooks, and forms the delicious soup inside.
We have great XLB shops here in Melbourne (not chains!) where the buns are made to order. Delish.
不,那不是脂肪。它其实是汤:优质猪肉和肉冻被一起包裹在里面,在烹饪过程中这些肉冻就会变成里面美味的汤汁。
我们在墨尔本这里有提供美味小笼包的店面(不是连锁店!)。味道不错。
chry5anth
Where to get cheap in London? Thanks
在伦敦那里买便宜?谢啦
ColonialLad
Meanwhile in Guanghzhou (Canton), the dumplings have no soup in them but are nevertheless delicious. They are served with a sauce that is a mixture of peanut butter and soy sauce zapped for a few seconds in a microwave. Yum, yum.
在广州,饺子里没有汤也很好吃。
这种饺子要在花生酱和酱油调成的汁里沾一下再吃,好吃呀(流口水)(流口水)
gobby1
Response to davecamden
She stopped force feeding you?
回复davecamden:她放弃劝你吃了吗?
shanghaibobs
To exclude DTF is ridiculous. They are authentic XLB cooked by Shanghainese chefs in Shanghai. More important that they are expertly made and consistently delicious. No one with any genuine relish of XLB could miss them off.
排斥鼎泰丰真是太可笑了。真的是上海人厨师在做小笼包。更重要的是他们传承了传统的做法和美味。如果想品尝真正的小笼包绝对不能不去那。
You may not get that same frisson of exoticism, but I prefer not to be shunted off my table after 5 mins to make way for fresh paying customers, nor to have to sit in a fug of cigarette smoke at a sticky table garnished with other people's leftovers.
你在这(鼎泰丰)可能感受不到上海的街头风情;但我也不喜欢付钱享受完5分钟的美味之后就被赶走,或者是不得在乌烟瘴气的屋子里,坐在粘粘糊糊粘着别人剩下的包子的桌子前。
The real story, if there's one to be found here, is that middle class Shanghainese are now demanding higher standards of food hygiene. A succession of scandals about re-used cooking oil and meat of uncertain provenance is causing many to shun the neighbourhood hole-in-the-wall for better-regulated chains.
There is a food revolution happening in Shanghai right now. And while it may not give as colourful anecdotes for student bar back home, it is changing local eating habits for the better.
但事实是,上海的中产阶级正更加关注食品安全问题。地沟油,瘦肉精等一系列事件已将促使他们完善监管制度。
上海正进行着一场食品安全革命。虽然这会曝光很内幕,但是,这场革命不讲改善当地的饮食安全。
abirch
Response to ccptoexpire
actually it isn't fatty or greasy when well done. They use pork jelly which is NOT pork fat but is basically lean pork broth the has jellied. The broth is basically fat free a delicious delicate broth .
The notion that pork fat and pork jelly are the same thing may indicate that the author of the article knows what they like but if they don't know the difference between pork jelly and pork fat. They are not a cook. In addition I have never run into Sanghai dumplings that were a bit of minced pork, fairly lean surrounded by a glob of pork fat.
回复ccptoexpire:其实,熟的小笼包没有那么腻,他们是用瘦肉炖出的肉汤凝固成的肉皮冻做成的。容堂基本上不含肥油,相当美味。
楼主分不清猪油盒肉冻可能是不清楚二者的区别,毕竟他们不是上海厨师。另外,我从来没有吃过一团肥油包裹着一点瘦肉末的小笼包。
PLDD
Response to prawncrackers
Weird - all the people I see eating XLB follow the recomended approach. Putting the whole thing in your mouth risks third degree burns. The places I go to pride themselves inserting very freshly cooked XLB - thus they are red hot. Note I live in China...!
回复 prawncrackers:很奇怪,我见过所有人对按照推荐的方法吃小笼包,整个包子一口闷你就不怕三度烧伤呀。我去品尝都是刚出笼滚烫滚烫的小笼包。PS:我住在中国。。。!
Ravenridge
Please, be accurate when you cast aspersions! There is no Din Tai Fung in San Francisco - maybe LA, or Seattle, or even in Silicon Valley, but not in SF! I don't know about XLB in Shanghai (yet) but I can say after diligent research here in and near SF is that the best XLB here is at the Shanghai Dumpling King on Balboa. And everything else is wonderful too! After reading this article, I more fully understand where their customer service model comes from - order, sit down, eat is the order of things when it is busy (and it often is)! But they are great, friendly people anyway.
不要造谣好不好,. 弗朗西斯科根本没有鼎泰丰!可能LA和西雅图会有,硅谷也可能有,但弗朗西斯科绝对没有!我没有吃过真正的上海小笼包,但我几乎走遍了弗朗西斯科周边,这里最好吃的小笼包是Balboa的上海包子大王。读完这篇文章我终于明白为啥他们要那样服务模式:点菜,坐下,然后拼命吃!但是店主真的很友好。
waverider76
My mouths watering. I better visit my friend who runs a chinese restaurant.
(流口水)(流口水)我要去我朋友开的中餐馆。
davecamden
Response to davecamden
Yeah, although I had to endure watching her eating such loveliness as duck tongues in blood soup and some sort of weird fish head thing. In her defence, she was gorgeous.
Bullfrog was fairly awful too. Especially when you saw them jammed, live, into a tank so tightly that they couldn't twitch, let alone ribbit. I used to think Spain was bad for callous attitudes to animals until I moved to China.
(回复 davecamden)对,尽管我不得不忍受看着她吃血汤里的鸭舌和某种怪鱼头。不过说句公道话,她真的很不错。 说起牛蛙那也是相当的吓人。特别是当你看着它们活生生地被塞到一个箱子里,动弹不得,更别说呱呱叫了。以前我以为西班牙人对动物的冷血够出名的了,搬到中国去才知道他们差太远。
UK80s90s
NO, totally wrong. I live in NY's Chinatown. There, at least, the way to eat them is - stick your chopstick into the twist at the top to puncture a little hole. Now you can add a bit of soy/dumpling sauce and even a bit of chili sauce, and the soup will cool down slightly. Then pop it in your mouth whole. The way it bursts as you bite is the whole point!
不对,完全错了。我住在纽约的唐人街。至少在那里,吃小笼包的方法是 - 用筷子在包子顶的花纹那里捅出一个小洞。然后你可以在那里加一点酱油/饺子酱或者一点辣椒酱,等汤水慢慢凉了。然后将整只包子放进嘴里咬爆。亮点是你将它咬爆的那一刻。
prawncrackers
Weird - all the people I see eating XLB follow the recomended approach. Putting the whole thing in your mouth risks third degree burns. The places I go to pride themselves inserting very freshly cooked XLB - thus they are red hot. Note I live in China...!
Yes if you put a whole one in your mouth fresh from the steamer then you'll get what you deserve. I promise you'll only do it the once though.
Try a little patience, wait for the right time and you will experience these dumplings on a higher level.
(回复PLDD)
奇了怪了 - 我见过吃小笼包的人都用上面介绍的方式来吃。将整只包子放在嘴里会导致三度烧伤的。我去过的包子店都以新鲜出笼小笼包为卖点-因此它们都是滚烫滚烫的。请注意我就住在中国……!
好吧,如果你将新鲜出笼的包子整个放进嘴里,后果自负吧。我敢保证你只能这么做一次而已。 还是来点耐心,等待最佳的时间,那时候你的吃包子经历会更上一个档次的。
UK80s90s
I tried sucking a bit of the soup out first today, and I stand corrected, it's a very pleasant experience. Lactophilia versus teabagging, I suppose.
第一次吃包子的时候我试过先吸了一点汤,当即就被纠正了。那次感觉不错。我琢磨着这感觉就像吸奶和喝袋装茶的差别。
BakaPaul
Be careful, they can be hotter than the sun!
小心点,它们比太阳烫多了!