问朝鲜人:你喜欢K-pop?
Ask a North Korean: do you love K-pop too?
2015-06-20
aloix
33903
0
1
收藏
纠错&举报
译文简介
自2012年以来,k-pop团在朝鲜变得流行多了。不过,尽管这些乐团看起来光彩照人,常常制作很费钱的MV,但朝鲜人更关注歌词和唱法,而不是歌手们的着装打扮。
正文翻译
原创翻译:龙腾网 http://www.ltaaa.com 翻译:aloix 转载请注明出处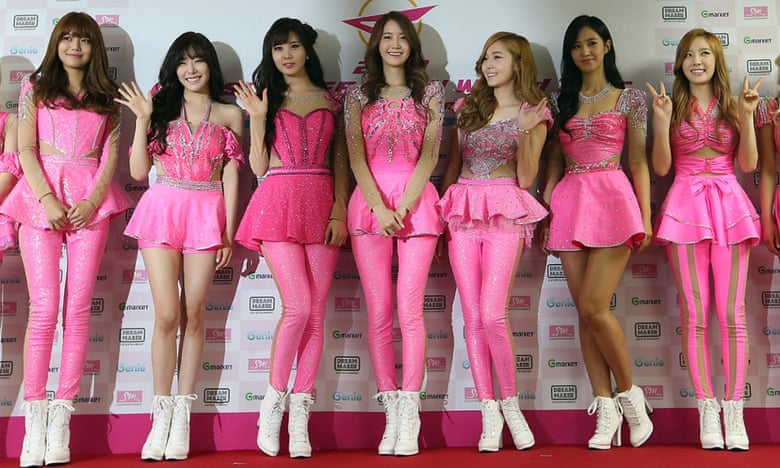 South Korean K-pop girl group Girls' Generation pose for photographers during a news conference for their world tour in Seoul, South Korea. Photograph: Yoo Yong-suk/AP
在世界巡演首尔站的异常新闻发布会期间,韩国K-pop女团少女时代为摄影师摆好姿势
K-pop groups have grown much more popular in North Korea since 2012. But although bands often look glamorous, beautiful and frequently feature in big-budget music videos, North Koreans tend to pay more attention to the lyrics and the vocals, than to how the singers are dressed.
自2012年以来,k-pop团在朝鲜变得流行多了。不过,尽管这些乐团看起来光彩照人,常常制作很费钱的MV,但朝鲜人更关注歌词和唱法,而不是歌手们的着装打扮。
North Korea is also a very patriarchal society, and the skimpy clothes worn bythe stars are often frowned upon by local audiences.
朝鲜也是个父权至上的社会,那些穿着露骨的明星们常常令本地观众皱眉。
In the DPRK, people who can afford to watch these kinds of videos are the ones with money. Therefore, it's mostly adults who consume K-pop culture. Teenagers don't usually have enough cash unless their parents are affluent, high-ranking officials.
在朝鲜,有钱看这种视频的都是那些有钱人,因此,主要是成年人们在欣赏K-pop文化。年轻人们则通常没有足够的钱,当然富二代和官二代例外。
Under former leader Kim Jong-il's leadership, people didn't feel comfortable listening to any songs that sounded different from traditional and familiar trot songs – recognised as the oldest form of Korean pop music, and even when they listened to South Korean songs they often preferred older tunes to newer hits.
在前领导人金正日的领导下,人们在听那些非传统音乐时往往会感到不适应,甚至在听韩国歌时他们会更喜欢那些老旋律。
But since 2012, South Korean songs have become increasingly popular amongst DPRK listeners, including K-pop classics such as Friend by Ahn Jae-wook, Private's Letter by Kim Kwang Seok and For Love.
不过2012年后,韩国歌在朝鲜越来越流行了,包括K-pop的经典曲目--安在旭的朋友,金光石的二等兵的信和为了爱等等。
More recently when the South Korean drama Sweet 18 became popular in the North, South Korean singer Jang Nara, who sang on the soundtrack, attracted a lot of attention in the DPRK.
最近,韩国戏剧甜蜜的18岁在朝鲜火了起来,唱背景音乐的韩国歌手张娜拉吸引了大量注意力。
While I was still living in North Korea, my favourite K-pop song was Like Being Shot by a Bullet by Baek Ji-young. But since my mum didn't like it, I couldn't sing it at home.
当我任住在朝鲜时,我最喜欢的K-pop歌是 白智英的像中枪一样。不过因为我妈不喜欢,我不能再家里唱这首歌。
What's clear is that North Korea's younger generation has tastes that stretch far and wide, and they're a big reason by K-pop singers have been getting more popular. You never know, North Korea's teenagers might be dancing to EXID's Up & Down at this very moment.
很明显,朝鲜的年轻人广泛地收到了韩国歌的影响,他们是韩国歌手越来越火的一个重要原因。很可能,朝鲜的年轻人正在听着超越梦想的"上上下下"并伴歌而舞呢。
But pop music isn't the only South Korean cultural export beloved across the border: adults and teenagers alike are also big fans of the country's soap operas and films.
不过流行音乐不是唯一在朝鲜收到欢迎的韩国文化产物:大人和年轻人们也很喜欢韩国的肥皂剧和电影。
Dramas smuggled across the border have even been described as "cultural Trojan horses", sneaking visions of the South into the tightly controlled North.
走私过朝韩边境的电视剧已经被形容为"文化的特洛伊木马",暗藏着韩国入侵朝鲜的迹象。
Though the number of North Koreans watching South Korean TV has declined more recently because of crackdowns, it is still possible for some – including party officials and those with social capital – to watch them in secret。
尽管由于强行镇压,观看韩国电视剧的朝鲜人已经显著减少了,不过有些人,包括掌握社会资源的劳动党官员还是有可能偷偷看韩剧的。
When it comes to the music featured in K-dramas, songs like Kal-muri by the famous trot singer Na Hoon-a are particularly popular. But North Korean teens prefer the catchy Bogoshipda (I Miss You) by Kim Bum-soo.
至于韩剧中的音乐,著名歌手Na Hoon-a的歌Kal-muri非常流行,但朝鲜年轻人更喜欢金范秀的我想你。
In the DPRK dramas and films are all about making sacrifices for the leader. Even if the main character dies, they die for the leader. But across the border, characters are seen to make sacrifices for love, and often feature more relatable and realistic story lines, which is fresh and shocking to most North Koreans.
朝鲜电视剧和电影都讲得是为领导作出牺牲。即使是主角死了,他们也是为领导而死的。但在韩国,角色们为爱作出牺牲,故事情节也更贴近现实。这对大多数朝鲜人来说真是新鲜玩意儿。
评论翻译
原创翻译:龙腾网 http://www.ltaaa.com 翻译:aloix 转载请注明出处

AssameseGuy87
My younger sister is a huge fan of K-Pop (Girl's Generation, T-Ara, Crayon Pop and loads, loads of other groups; she likes J-Pop too and she knows both the languages). It's through her that I came to know about these groups and also terms like 'Maknae' etc (my knowledge of K-Pop is still pretty basic though).

我妹妹很喜欢K-pop(少女时代,tara,蜡笔团和许多其他团;她也喜欢J-pop,她也懂这两种语言)。通过她我知道了这些乐团还有像"老么"这样的术语(我关于K-pop的知识还挺基础)。

Paganview
A few people being a bit sniffy about K-pop. How can we be when we have produced the likes of Boyzone, Westlife, The Saturdays, B*Witched etc, all utter crap.

有些人对K-pop嗤之以鼻,当我们搞出了像男孩地带,西城男孩,The Saturdays,B*Witched这些垃圾之后怎么会好意思(对K-pop嗤之以鼻)。

bealfeirstecoiscuain回复Paganview
And the worst of the lot, U2.

还有最烂的U2乐队。

hellonainen
How can this be interesting to people, a constant smile, a generic mini-skirt and lousy music.

人们怎么会对这些玩意儿感兴趣的,一成不变的笑容,普通的迷你裙和吵闹的音乐。

fragglerokk
K Pop is a kind of natural development from J Pop bright shiny aesthetic, fairly empty but danceable pop tunes. The Ks seem to have it at the moment though. especially that omnipresent bloody microsoft advert!

K-pop是J-pop欢快闪亮风格审美的一种自然变体,非常空洞但很适合跳舞的流行旋律。不过K-pop似乎正火在头上,尤其是微软那该死的的无所不在的广告。

Mr_Mouse
Had never heard of K-pop before but admit I'm a fan already and if it helps reunite the two Koreas all the better.

以前从来没听歌K-pop,不过我承认我已经是它的粉丝了,要是它帮助了朝鲜和韩国的再统一,那就更好不过了。

KangsongDaeguk回复 Mr_Mouse
K-pop reunite the two countries?
Only the the complete annihilation of the United States and their puppets in Seoul will achieve reunification.

Kpop能使两国再统一? 除非美利坚和他们在韩国的走狗死完了,两国才能再统一。

Decimal
It sounds like someone has thrown Nicki Minaj and some crap from the 90s into a blender, then sprinkled some k-pop lyrics on top. Yawn.

听起来像是有人把麻辣鸡和一些90年代的垃圾混合在了一起,然后再与一些kpop歌词杂糅在一起。真没劲。